Article Length: ~1,600 words or about 8-13 minutes of reading.
The 2015-2016 NBA season is underway.  We're about eight games into the season and blogger after blogger is racing to jump to the wildest conclusions, such as Kobe Bryant is literally the worst player ever, Stephen Curry is literally the best player ever, the Golden State Warriors would've waxed the 1995-1996 Bulls, this is the greatest draft class of all-time, and Andre Drummond has overtaken Rodman/Russell/Wilt/Moses as the greatest rebounder of all-time.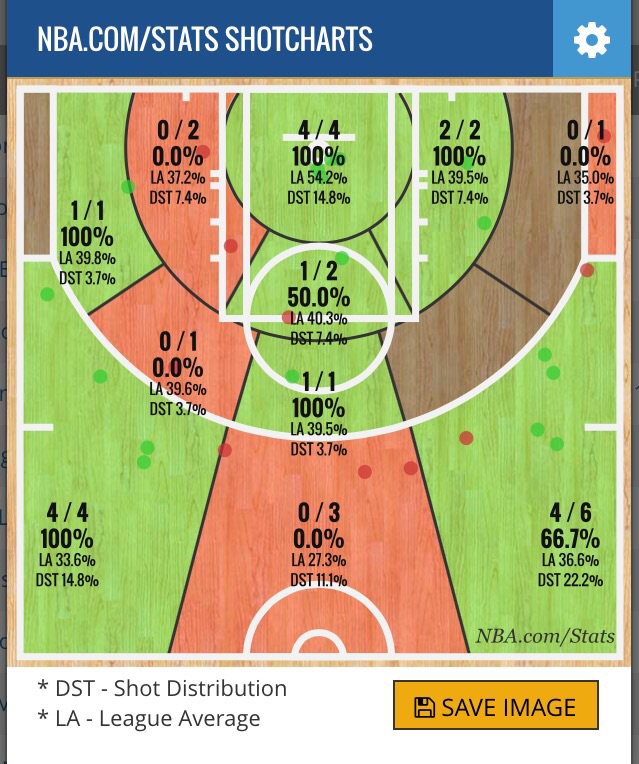 I mean, Curry's shot-chart against the Pelicans is just stupid.
But I've already beaten the curve and made my predictions before the season started, so we can ignore actual analysis for now.  We all know how teams are doing as of now, but how well would teams fare with one little wrinkle?  Let's say that every player reverted back to their specific prime, then which team would be the best?
Now nobody ever has taken the "prime" hypothetical as far as Bill Simmons, and I truly believe his is the standard by which every fan should think.  Here, instead of ambiguously imagining Chris Paul in his prime, you have to specifically choose the single best year of his career.  Trust me, this is much more difficult than it seems.  Now I'm not going to go through every roster and defend all of my choices, so I'll go through the top few teams.  Let's do the top five teams in the NBA.
Honorable mentions:
Dallas Mavericks
Deron Williams 2007-08; Wesley Matthews 2013-14; Chandler Parsons 2013-2014; Dirk Nowitzki 2006-07 (I would accept 2010-11); Javale McGee 2010-11
People forget that Deron vs. Chris Paul was a legitimate debate around 2009.  He never matched Paul's defensive instincts, but boy could Deron ball out hard in a pick and roll.  I imagine he and Dirk would cook up some magic on the pick and pop, especially with Wes hiding in the corner.  Javale automatically places them at the bottom of the best though.
Memphis Grizzlies
2013-14 Mike Conley; Vince Carter 2000-01; Jeff Green 2009-10; Zach Randolph 2009-10; Marc Gasol 2014-15.
Finally, the Grizzlies get the go-to scorer in Vince Carter that they've desperately needed to get over the hump.  No that's not an eye-popping starting lineup, but they would get the job done.
Chicago Bulls
Derrick Rose 2010-11; Jimmy Butler 2014-15; Mike Dunleavy 2007-08; Pau Gasol 2010-11; Joakim Noah 2013-14.
Unlike the 2011 playoff Bulls, this squad will have four legitimate scoring threats between Butler, Rose, Dunleavy, and Gasol.  With the twin towers of Gasol and Noah combined with both of their crafty passing abilities, this would be a very dangerous starting lineup.  How are there still five better teams than this?  Oh, you'll see.  YOU WON'T BELIEVE NUMBER 2!!  Just kidding, but maybe.
Now for the top dogs of the newly rejuvenated NBA
Golden State Warriors
Stephen Curry 2015-16; Klay Thompson 2014-15; Andre Iguodala 2009-10; Draymond Green 2015-16; Andrew Bogut 2009-10
I know that it's completely blasphemous for the Warriors to be anything but #1 (#5 no less), but hear me out.  This team would be absolutely destructive, even more so than the all-time juggernaut that actually exists.  With Bogut and Iguodala being tossed back into their primes, their starting lineup has three players that can guard multiple positions, and a tank that clogged the paint as well as any in the late single digit 2000s.  Iguodala even gives them another premiere pass-first playmaker, which would make their potent offense even more beautiful.
The thing is, they don't get much deeper.  Harrison Barnes brings some firepower off the bench, and besides Livingston and Mo Speights retaining whatever of their primes they lost, there's nothing very special coming out after the terrifying starting lineup.  Regardless, I would never choose to play this team in any situation.
Cleveland Cavaliers
Kyrie Irving 2014-15; Richard Jefferson 2007-08; LeBron James 2012-13; Kevin Love 2011-12; Timofey Mozgov 2014-15
Immediately some people will disagree with my pick for LeBron's prime year, claiming that it was his statistically absurd 2009-10 year.  While that was certainly the most eye-popping performance he gave, his play during his third year with Heat was such an awe-inspiring combination of efficiency and patience, unlike any we've ever seen.
People often forget that Richard Jefferson averaged over 19 points per game on four separate occasions in the mid-2000s.  If he can run alongside Kidd and Carter, then he'd be a perfect fast break companion to LeBron and Kyrie.
Besides this, the Cavs gain the all-star firepower of Mo Williams off the bench along with Shumpert, Smith, Thompson and Varejao.  Honestly, that unit could stand as a (very poor) starting lineup in this league.  Didn't the Knicks essentially start this team a few years ago…
I apologize about the quality of number 1.
Los Angeles Clippers
Chris Paul 2008-09; JJ Redick 2014-15; Paul Pierce 2005-06; Blake Griffin 2014-15; Deandre Jordan 2014-15
No, I'm not lazy by having Redick, Griffin, and Jordan from last season.  It's just that, all things considered, those are their best seasons so far, and I'm not seeing noticeable improvement during this ongoing year.  Some may argue that Griffin actually played better in previous seasons, but after his Herculean performance in the playoffs, it would take an unbelievable effort to come close to matching that.  Chris Paul on the other hand was a monstrous one-man wrecking crew right around 2010.  If anyone post-2000 could make Stephen Curry's life Hell on both the offensive and defensive end, it's 2009 Chris Paul.
The most important part that separates this Clipper squad isn't the starting lineup, but the bench.  With Stephenson, Josh Smith,  and Jamal Crawford all playing together, you essentially have an above average starting lineup coming in as the second unit.  Josh Smith is the key here, and people forget that around 2007, Smith was one of the most intriguing athletic players in the league.  I honestly couldn't understand why he wasn't magically turning into LeBron with even better defensive instincts.  While that never panned out, he still rewarded us with an array of acrobatic dunks and vicious swats.  My only fear that holds this team back is the knucklehead potential between these three players.
Miami Heat
Goran Dragic 2013-14; Dwyane Wade 2008-09; Luol Deng 2010-11; Chris Bosh 2013-14; Hassan Whiteside 2015-16
The Heat are stupid stacked.  Nothing illustrated this clearer than my decision to bench 2007-08 Amar'e Stoudemire, who averaged 25 ppg on 59% shooting.  Am I completely crazy?  No because it's all about fit.  With older, more refined Bosh starting at the stretch-four, Wade and Dragic have so much more space into which they can drive and kick.  Whiteside gets the nod over Stoudemire because of his paint-gobbling and defensive instincts.  Either Bosh or Whiteside can come out at any time to create a dynamic pick and roll duo between Wade and Stoudemire or Dragic and Stoudemire.
Along with Stoudemire, Winslow, Chalmers, Haslem, and, wait for it, 2007-08 Jason Richardson would lead the second unit.  That's actually a very good starting lineup right there!  Richardson played in the league about seven years too early with his absurd athleticism and sniper-like three point shooting.  In 2007-08, he connected on 3 three-pointers a game while shooting 40% from that range.  A lineup with Dragic, Wade, Ricardson, Bosh, and Stoudemire would be absolutely unstoppable on offense if Wade was the primary ballhandler.  Maybe they'd leave a bit to be desired on defense, but come on!
San Antonio Spurs
Tony Parker 2008-09; Danny Green 2014-15; Kawhi Leonard 2015-16; LaMarcus Aldridge 2014-15; Tim Duncan 2002-03
Does anybody remember how good Tim Duncan actually was?  In the '03 finals versus Jason Kidd's NJ Nets, Duncan averaged a whopping 24-17-5 with 5.3 blocks over six games.  Let's put that into perspective by comparing to players on the team that achieved the second highest of each of those stats.  Tony Parker averaged 10 points, David Robinson averaged 7.3 rebounds, Parker averaged 4.2 assists, and David Robinson averaged 1.8 blocks per game, which makes the statline OF THE DIFFERENCE between Duncan's numbers and second highest essentially 14-10-1 with 3.5 blocks.  That's better than any other person on the team!  Duncan was that team, unlike how the Spurs function nowadays.  Pair him with DPoY Leonard, knockdown shooter and fantastic defender Green, mid-range aficionado Aldridge, and lightning quick Tony Parker, and you have a starting lineup that could not be rivaled.
Look at that statline.  Some people have argued that the league missed counting two blocks; nonetheless, it's still an unbelievable performance.
Consider then 2007-08 Ginobili, 2007-08 David West, and 2005-06 Boris Diaw coming off the bench, providing enough versatility to give any of the five starters a rest.  With a lineup of Ginobili, Green, Leonard, Daw, and Duncan, they would have five players that can guard multiple positions, and a backcourt averaging a total of 5 steals per game.  Between that and Duncan's otherworldly defensive presence, nobody, not even the firing squad the Miami Heat would bring, could handle it.
Disagree with a specific year I picked for a player, think I missed a team, or disagree with the order of my teams?  Then go ahead and let me know via Twitter, email, Facebook, or just comment right on this post.  I'm always up for a discussion.
As always, all stats from basketball-reference.com