Article length: about 1,600 words or 8-11 minutes of reading.
I'm back. Though When MJ said those words, it may have meant more to the sport's world than when I say it, but still, it feels good to return from my proverbial baseball sabbatical to write some more thrilling takes on the NBA.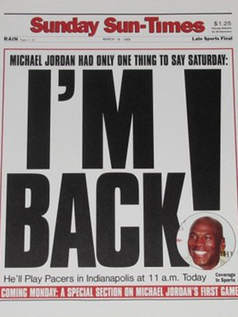 Since I last wrote an article, a lot has happened. Like a lot a lot starting from the beginning of the playoffs. Here's my quick and dirty take on a couple of them:
-Curry's regular season was absolutely astounding and some have even called it the greatest offensive regular season in NBA history right next to Jordan in '88-89 and Wilt in '61-62. Too bad he hasn't been able to produce as well in the finals.
-LeBron James is certainly happy about Curry's lack of production in the finals, and he has fully inserted himself back into discussion about being the GOAT. Believe me, I still think that MJ is solidly the GOAT at the moment (and that Kareem still holds number two by a slight margin), but if LeBron can continue his string of Finals runs by maybe even one more, he leap frogs Kareem in my opinion. If he topples the revamped Warriors? Well scoot over MJ because you're sharing the front seat. LeBron beating the 2016-2017 Warriors would be like David beating Goliath who takes the year to train with Rocky, infuse adamantium into his skeletal structure, and acquire Mjornir before David beats him again.
-Kevin Durant to the Warriors? Are you actually kidding me? Everyone who is not excited about this is lying to you. This is the kind of absurdity that fans pull off in NBA 2K by taking control of the AI run teams and turning off the salary cap. We are literally seeing the greatest regular season team in history is adding one of the most complete players in the game who also boasts one of the most potent offensive games in NBA history. Whatever happens is going to be fun…as long as Curry and Durant's injury history don't catch up to them.
-I'm really sick of superhero movies.
This penultimate point about Warrior's super team opens up a relevant discussion about what it takes to construct a super team (please see the Universe Cup part 1, 2, 3, 4, and 5 for construction in practice) especially after Team USA's struggle against a physical Australian team who held Team USA to 39% shooting versus their 50% shooting. We simply won based on the fact that we have some of the singularly most talented players in the world who helped give us a +10 advantage in three pointers made and a whopping +13 advantage in offensive rebounds..
But how? How can a team filled with the best talent in the world (sorta) struggle against a team with no discernable superstar? For a more philosophical twist on the discussion, check out my old post on talent and aesthetics in the sport. For a more theoretical approach aiming at team building, please continue reading.
First, let's break-down Team USA by position:
Guards: Butler, DeRozan, Irving, Lowry, and Thompson
Forwards: Anthony, Barnes, Durant, George, and Green
Centers: Cousins and Jordan
This is a big, strong team that plays no nonsense defense, cleans the glass like Windex, and can take anyone off the dribble. The team is noticeably missing any playmakers beyond Draymond Green and somewhat Kyle Lowry. That's it. Durant has put up wonderful assist numbers for a forward and Thompson played within an unselfish offensive unit during the season, but ultimately, neither them nor anyone else on the team can do what LeBron, Chris Paul, Dwyane Wade, Jason Kidd, or Deron Williams did for past Olympic teams. It's not quite as easy as that because, as I cited above, many of the premier players in the league opted out of playing, but this team construction shows a blatant disregard for basic team structuring that has helped teams like the Spurs keep up their immense success for nearly two decades.
So let's go ahead and look at some of the most successful teams in history and why their star power prevailed over others. Let's look at the greatest teams of all time and see which groupings of superstars worked and why:
1996-97 Chicago Bulls – Michael Jordan, Scottie Pippen, and Dennis Rodman
1986-1987 Boston Celtics – Larry Bird, Kevin McHale, and Robert Parish (honorable mention of Bill Walton on the bench)
2012-2013 Miami Heat – LeBron James, Dwyane Wade, Chris Bosh
2000-2002 Los Angeles Lakers – Shaquille O'Neal and Kobe Bryant
1987-1988 Lost Angeles Lakers – Magic Johnson, Kareem Abdul-Jabbar, and James Worthy
2015-2016 Golden State Warriors – Stephen Curry, Draymond Green, and Klay Thompson
1971-1972 Lost Angeles Lakers – Wilt Chamberlain, Jerry West, and Elgin Baylor (sorta).
1983-1984 Philadelphia 76ers – Moses Malone, Julius "The Dr." Erving, and Andrew Tomey
1997-2016 San Antonio Spurs – Tim Duncan, Manu Ginobili (almost), and Tony Parker (almost)
While this isn't by any means a comprehensive list, this lays a solid groundwork for showing what is required to be the best for superstars to mesh: at least a dominant scorer, multiple excellent defenders, and multiple above average playmakers with one excellent playmaker. The biggest exception that stands out is the early 2000s Lakers who had possibly the most destructive post-season force in Shaq.
Besides the obvious outlier that will always occur, the significant thing is that superstars that mesh MUST fulfill all of the aforementioned qualities. That's why players like Michael Jordan, LeBron James, Scottie Pippen, and Larry Bird are so historically great: they are phenomenal at multiple aspects of the game. With Pippen and Jordan, You have two of the historically greatest wing defenders, two of the greatest playmakers, and possibly the greatest scorer. With Wade and LeBron, you have two of the historically greatest playmakers, two of the greatest scorers, and two of the greatest defenders.
Here's the thing that everyone forgets about: the third star. This is where the 2015-2016 Cavaliers really show their weakness. If one or both of the other two superstars are prominent scorers, that third start NEEDS to be extremely effective without the ball which again leads to Benjamin Morris' article on irreplaceability that simply states that basketball only has one ball on the court, so a team of George Gervin, Dominique Wilkins, and Allen Iverson wouldn't be quite as effective as 2K would have you believe. With LeBron and Kyrie being the main superstars of the Cavs, you have LeBron  who is a premier scorer, defender, and playmaker, and Kyrie who is a premier scorer. Kevin Love's skillset also happens to be scoring with rebounding which if you have noticed, is not listed with the required skills. In theory, he stretches the floor for two players that create a lot of space, but he still needs the ball to be the 26-13 superstar in the making that he was in Minnesota.
So if the Cavaliers were my playground and I had free reign over any player to take Love's spot, I would want a player that defends at a very high level and creates plays at a moderately good level, and a player who is preferably a big man. Let's rank them by excellent matches to not-great-but-still-better-than-Love matches:
Excellent: Draymond Green, Paul Millsap, and Kawhi Leonard,
Solid: Derrick Favors and Tim Duncan (prime Tim would've been perfect)
Not-great-but…: Al Horford and Dwight Howard
This isn't a comprehensive list, but you get the idea. You know who didn't fully grasp the idea? Whoever the hell constructed this year's Olympic squad. Sure, we have the some of the best players in the game, but it seems like we chose players strictly off merit instead of who fits the best which is a whole different debate. I fall squarely on the side that we need to make a team that will mesh well. The current team has defenders that stretch to next Tuesday, a couple of great scorers, and a transcendent scorer, but we only have one above average to great playmaker in Green. This is unacceptable.
Truth be told, I have to be fair to the selection committee because between injuries and players dropping out of contention, they weren't left with the most ideal squad. The only players that they actually cut are as follows: Michael Conley, Kenneth Faried, Rudy Gay, Dwight Howard, Andre Iguodala, and Kevin Love. Had it been my choice, I would have dropped Harrison Barnes and DeMar DeRozan for Conley and Iguodala. Conley provides a more traditional floor-general as a point guard who also boasts one of the better offensive and defensive IQs in the league. Iguodala skyrocketed to one of my favorite players in the league this past year by making himself one of the most valuable players on the greatest regular season team in history while coming off the bench! That sort of selflessness along with his ability to lockdown the best players in the league and act as the de facto point guard without scoring the rock is priceless.
To summarize, the greatest NBA teams need to have their superstars exhibit these abilities: At least one but not all three must be an excellent scorer, at least two need to be excellent defenders, and at least two need to be above average playmakers (with bonus points to those who are excellent playmakers). Team USA's 2016 Olympic team doesn't quite embody that theory and instead opted for multiple players who are most successful in isolation. Because of our sheer skill level, we will still win the gold medal in the Olympics, but as Australia showed us, we are not invincible.
Works Cited
Dieter Kurtenbach, "Stephen Curry just finished the greatest individual regular season in NBA history"
Ken Berger, "Curry deserves LeBron-like criticism after laying another Finals egg"
Kirk Goldsberry, "True Value: Breaking Down Kevin Durant's Past, Present, and Future"
Joe Barnathan, "Why Elgin Baylor Is an NBA Champion"
AllThatAmar, "Rio Olympics 2016: Team USA Basketball Final Roster and analysis"
Mike Prada, "The 7 ways to understand Mike Conley's brilliance"
Zito Madu, "Andre Iguodala is the superhero the Warriors don't need until they do"
Cody Houdek, "The Universe Cup" Part One through Five
Cody Houdek, "Aesthetics, Metaphysics, 'The Matrix,' and the NBA"