Article length: about 2,200 words.
Please check out part 1and part 2 to catch yourself up. So far, the team has Mike Conley, Ray Allen, and Draymond Green.
I'm a big fan of what Boston has been doing this offseason with stockpiling forwards. Currently, after the recent Avery Bradley trade, they have Brown, Tatum, Hayward, Morris, and Crowder all of whom deserve ample playing time. Bleacher Report alludes to this in a recent interview with Stevens:
The new era of the NBA requires versatility to win, and the Boston Celtics are adjusting.

"I don't have the five positions anymore," Celtics coach Brad Stevens said, per Kareem Copeland of the Associated Press. "It may be as simple as three positions now, where you're either a ball-handler, a wing or a big.

"It's really important. We've become more versatile as the years have gone on."

– Rob Goldberg, "Brad Stevens Says Celtics Have 3, Not 5, Positions Now," 2017
Even though he's not 100% correct on that, I like this mentality, and this is the sort of versatility we'll need on our team. So, let's continue by adding the most versatile defensive center in all of NBA history.
Ben Wallace 2003-04
Notable Accolades: Regular Season – All Defense 1st-Team, All-Star, 7th in MVP Voting, 2nd in Offensive Rebounds, 2nd in Defensive Rebounds, 2nd in Total Rebounds, 6th in Total Steals, 2nd in Total Blocks, 1st in Defensive Rating, 1st in Defensive Win Shares, 1st in DBPM, and 4th in VORP.
Playoffs – T-2nd Total Minutes, 1st in Offensive Rebounds, 1st in Defensive Rebounds, 1st in Total Rebounds, 1st in Steals, 1st in Blocks, 1st in Defensive Rating, 1st in Defensive Win Shares, 3rd in Win Shares, 1st in DBPM, 1st in VORP, and 2nd in BPM.
Regular Season/ Playoff Stats
Regular Season/ Playoff Advanced Stats
I admittedly have a soft spot for Ben Wallace. When I first really started getting into basketball, Big Ben was by far my favorite player. That interest dissipated for a while, but in the advent of advanced stats and old game footage, he's climbed his way back into one of my all-time favorites.
Depending on who you ask, Wallace is the best or at least a top-5 defensive player in the history of the NBA. His teams have always showcased astounding defensive abilities even when he was past his prime, and the mid-2000s Pistons were some of the stingiest defensive teams of all time. Just like Bill Russell before him, some discount just how effective he was on defensive because of his size (he's listed at just 6'9″), but I believe that his height was actually helpful on two fronts: first, since he was strong like an ox, his low center of gravity made him near impossible to  back down, and second, he was able to step out and switch on defense.
In our current league, Wallace wouldn't deal with as many post-ups as the mid-2000s, but some players like Whiteside still shoot around 5 times per game from the post. What greatly intrigues me about Ben was his switching ability combined with his rim protecting ability (much like Draymond Green like I discussed in this article). I highly suggest that you spend some time watching some game footage from the Pistons and Magic playoff series in 2003 where Tracy McGrady, possibly the most dominant offensive threat at the time, bashed his head against Pistons' wall. You'll see that on many pick-and-rolls, Wallace simply switches onto McGrady without the guard fighting over the screen. This is part of their defensive scheme! If Wallace can "guard" ("guard" meaning as well as anyone can guard a transcendent scorer) on some defensive possessions, then we can trust him to handle most any taller shooting guards and forwards (I'm thinking guys like Hayward, Butler, LeBron, George and not necessarily smaller players like Curry or Thomas).
Besides some advanced stats like VORP, DBMP, and Basketball Reference's Defensive Rating, we don't have much to quantify Wallace's impact on the defensive end. One of my favorites (but still very flawed) is the On/Off Ratings, but these only go back to 2009 (and NBAWOWY's data expands even less), so the last Wallace season that we can look at is his post-prime Cavaliers stint. In his more limited role, he still posted the best On/Off Defensive Rating on the team holding opposing offenses to a stifling 94.9 points/100 possessions while he was on the court and 101.6 points/100 possessions while he was off. Imagine how useful prime Wallace would have been….But let's use numbers and not just imagine! When I tweeted at NBA Math for Ben Wallace's numbers compared to everyone else in history on defense, they sent the following image with Rudy Gobert and Mark Eaton highlighted: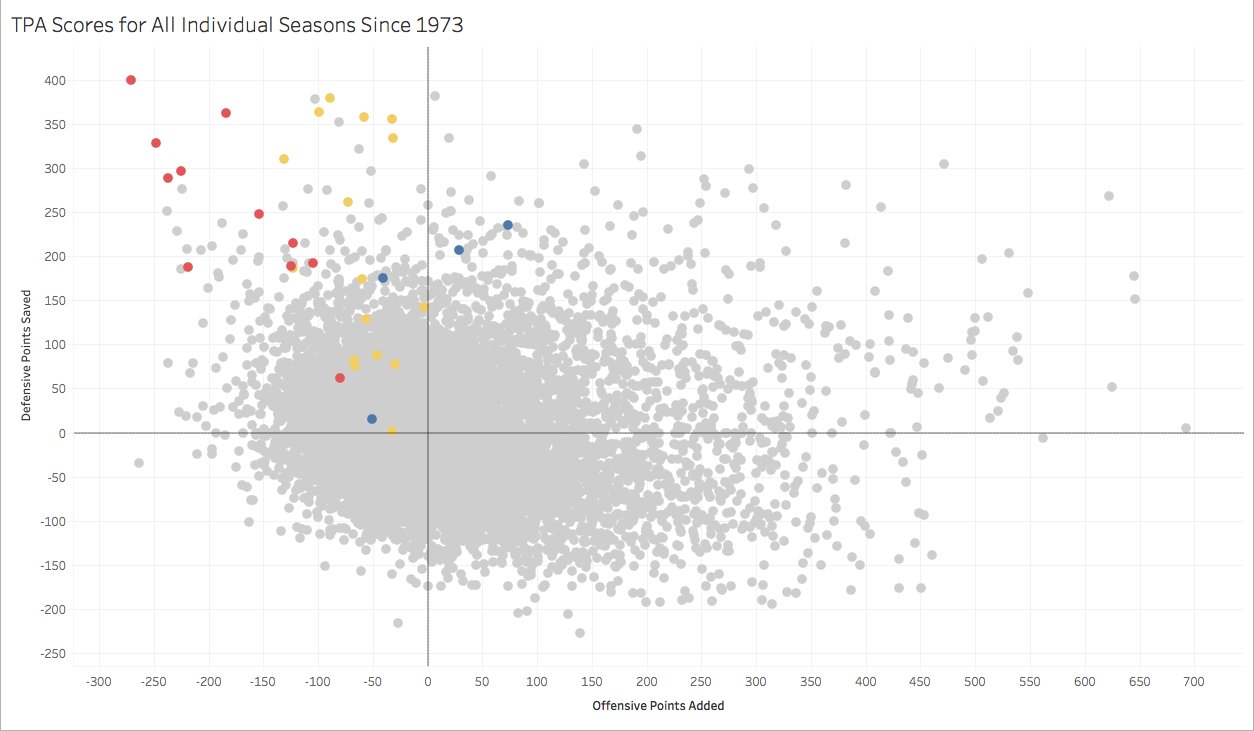 Using data from 1973 onward, this graph plots TPA which plots Offensive Points Added and Defensive Points Saved. Eaton is red, Wallace is yellow, and Gobert is blue. While Wallace is clearly a negative on the offensive end, this shows that his defensive abilities are nearly unmatched (just in case it's difficult for you to read the axes, dots on the far right indicate a huge offensive impact while dots higher up indicate a huge defensive impact). Let's look at his theoretical skillset:
| | | | | |
| --- | --- | --- | --- | --- |
| | Playmaking | Scoring | Defense | Rebounding |
| Ben Wallace | 2 | 1 | 10 | 9 |
While Ben's rebounding faltered a bit from being a 10 in previous years, I opted for his 2003-04 season because of the ferocity and confidence with which he played throughout the playoffs. He went toe-to-toe with apex Shaq and never blinked. His defense throughout that year is also possibly the best in the modern NBA by most every metric. I want his tenacious D (and the pick-and-roll defense of destiny) and unmatched work ethic. I hate using teammate praise because you generally have to take it with an ocean of salt, but Jerry Stackhouse hyped up Wallace with some of the highest praise possible:
"I've played with a lot of great players: Michael Jordan, Allen Iverson, Grant Hill," says the Wizards guard. "Ben Wallace's name belongs in that list too, but for some reason people don't think of him as the kind of player whose name belongs on the marquee. I don't understand why. He belongs way up at the top."

– ESPN.com, "From the Archives: A Ben Wallace Feature Article," 2006
Edit: As if he were reading my blog, Jerry Stackhouse said on Zach Lowe's Podcast that he literally released today that if he were to rank the best players with whom he ever played, it would be in this order (skip to about the 51-minute mark):
Dirk Nowitzki
Grant Hill
Allen Iverson
Ben Wallace
[Wizards] Michael Jordan
That is some crazy high praise!
Plus, Ben Wallace (with the exception of Karl Malone) has the greatest bodybuilder physique in NBA history.
—————————————————————————————————————————————–
I can't believe I've taken so long to make my next pick, but if I'm building a team that exemplifies championship pedigree, I can't go further without bringing this guy into the fold.
Manu Ginobili 2007-08
Notable Accolades: Regular Season – Sixth Man of the Year, All-NBA 3rd Team, 6th in WS/48 minutes, 3rd in BPM, 4th in OBPM, and 4th in VORP
Playoffs – 3rd in Total Three Pointers Made
Regular Season/ Playoff Stats
Regular Season/ Playoff Advanced Stats
Manu might be the most underrated player in NBA history, and if you do a Google dive into the great things people have said about him, you could easily fill a week's worth of reading. I'll try and condense my favorites, but the clear takeaway is that Manu is a crafty playmaker who competes with a vicious drive. It's tough to glean any of this from Manu's numbers, but his lack of numbers actually shows something even more important to me: a willingness to sacrifice personal stardom for the greater good. Pop convinced him that coming off the bench would help the team succeed, and after a long career, Manu walks away as one of the winningest basketball players in history.
Manu brings a resume to this team that screams "leader" and "winner" (remember, this is prior to 2008): Three championships (2003, 2005, 2007), two Italian MVP awards (2001, 2002), a Euroleague Finals MVP (2001), an Italian Cup MVP (2002), a FIBA Americas Championship MVP (2001), and, one of the most impressive basketball accomplishments ever, an Olympic Gold where he led Argentina to its first and only gold medal in basketball that includes a victory over the USA team that had Duncan, LeBron, Melo, AI, Wade, and Amar'e (2004).
During a pickup game with free agents back in September of 2007, Manu dived out of bounds through three players to retrieve a ball, and the player to whom he saved it scored. Zach Lowe writes that the following happened
[Popovich] gathered everyone and asked them: "What does that play mean to you?" Popovich told them Ginobili wanted to win more than anyone on the floor, and that if the Spurs wished to repeat after their 2007 title, they would all need to play that hard. Popovich walked away, and everyone thought the speech was over. Suddenly, he turned: "And Manu: It's f—ing September. Never do that again in September."

"I was honestly scared and afraid for how he would hold up over time," Popovich said. "I get chills thinking about it now."

Duncan laughed at the memory. "Things like that happened with Manu," he said. "It was like, 'Manu, dude, calm down. We are just trying to make it out of practice in one piece.'"

– Zach Lowe, "Welcome to Manu's Basketball Familia," 2016
A competitive drive means very little if you don't have the skills to back it up. Ginobili had the skill plus some. Besides his absurd passing ability and popularizing of the ubiquitous Euro-Step, Manu's offensive game included absolutely no holes. He simply had no weaknesses. In an excellent article by Michael Lewis, Lewis speaks with defensive aficionado Shane Battier about how to defend certain players. Battier begins by discussing Kobe and ends with Manu. The bolded section is my emphasis:
People often say that Kobe Bryant has no weaknesses to his game, but that's not really true… For instance, the numbers show [Battier] that Allen Iverson is one of the most efficient scorers in the N.B.A. when he goes to his right; when he goes to his left he kills his team. The Golden State Warriors forward Stephen Jackson is an even stranger case. "Steve Jackson," Battier says, "is statistically better going to his right, but he loves to go to his left — and goes to his left almost twice as often." The San Antonio Spurs' Manu Ginóbili is a statistical freak: he has no imbalance whatsoever in his game — there is no one way to play him that is better than another. He is equally efficient both off the dribble and off the pass, going left and right and from any spot on the floor. 

– Michael Lewis, "The No-Stats All-Star," 2009
The greatest description that I've ever read of how to be an effective basketball player (or, really anything) comes from an obscure two-part blog post by "DewNO" where he combines the philosophy of Jorge Borges and the skillset of Manu Ginobili. In this, he states:
"What if being a great player isn't about having the best or the most spots, or having a tall, high release? What if being a great player means that being chased off your spot…is itself one of your spots?"

– DewNO, "Manu and Borges: The Infinite Chase, Part 1", 2012
followed by:
You can force Manu to take bad shots. It's even possible – depending on the phases of the moon – to convince him to launch a three from contortions that make even Manu subject to chance. And he does miss sometimes. But you can't chase him off his spot, because he has only one. His spot is basketball itself, and chasing him off his spot? Well, you can try your hardest, but the chase is also going to be basketball (a little trickier, certainly) so he's going to handle it pretty well. Don't blame yourself.

– DewNo, "Manu and Borges: The Infinite Chase, Part 2," 2012
It's a sexy way of saying "expect the unexpected," but Manu embodied this playstyle. His snaking moves and crafty demeanor, as Battier discusses above, makes him impossible to slow down because if you guard him as well as you can, that new, uncomfortable position will become Manu's best spot. You can't guard a player that can so creatively play offense on the fly.
Personally, #8 is my favorite, but man you can't go wrong with any of these. #1 is simply ridiculous.
I didn't spend much time discussing Manu's defense because there's not much information about it. Most defensive statistics point to him being above average, but this could be skewed by his excellent ability to steal the ball. Ginobili always had a nack for knowing the offense's next move, so, like a "Roamer" that I discuss in this article, Ginobili's value on defense lies in his disruption. Could he stay in front of his man? Absolutely. Was he a lockdown 1-to-1 defender like Avery Bradley? No, but his abilities proved to be more valuable than simple footwork. Look no further than his game-winning block against James Harden in the 2017 playoffs (let me remind you that Manu is 39 in this clip and Harden was voted 2nd in MVP):
Or how about that time he blocked Kevin Durant's dunk on the break:
Manu's skillset then breaks down as follows:
| | | | | |
| --- | --- | --- | --- | --- |
| | Playmaking | Scoring | Defense | Rebounding |
| Manu Ginobili | 7 | 7 | 7 | 5 |
So far, our team has the following players: Mike Conley, Ray Allen, Draymond Green, Ben Wallace, and Manu Ginobili. Is that our starting five? Who knows, but I'll spend a full article discussing possible lineups, strengths, weaknesses, and fuller reasons for why I picked certain players (some players' worths are contingent upon other players being with them). Stay tuned!
Stats from basketball reference, stats.nba, and NBAWOWY.