Article length: about 3,000 words (the second longest post behind this one)
This is it! The final section of a seven part series! Don't quit on me now. Dig deep and find that dark place that helps you push to a new height. Do it! Go back and read part 1, part 2, part 3, part 4, part 5, and part 6. It's a lot of reading, I know, but you'll hopefully find some mild entertainment.
Just to make things easier, here's the complete roster along with each player's skillset:
Since this piece has three parts, I'm going to split it into two sections by combining the coach selection and team strategy because I believe that they go hand-in-hand. Then, once the strategy is spelled out, I'll explain why certain players didn't make the team in the context of the strategy.
Ready? Ready.
Coach/Strategy
Since I have to choose a coach that has not won Coach of the Year, my pool of extremely talented coaches is limited. I narrowed it down to two, and those two do NOT include the legendary Jerry Sloan (who definitely deserved CotY at one point or another) because of his curmudgeonly demeanor, his "my way or the highway" attitude, his old-school play style, and his war with Deron Williams. Look, Sloan was an incredible coach, and I wish him all the best with his current health, but I need someone who is going to manage personalities better, promote a more free-flowing offense, and have players shoot more threes. Personally, I think Sloan's style stymied the likes of canonball players like Kirilenko, but that's another conversation for another day.
My two coaches come down to Brad Stevens and Rick Adelman, and ultimately, I'm going with Stevens. Adelman coached two Portland teams to the NBA Finals (1990, 1992) and Portland and Sacremento to two Conference Finals (1991, 2002 respectively), and was described as a real player's coach.  So why not go with Adelman? Simple: I'm biased.
USA Today
I'm biased towards more recent coaches because the last six or so NBA seasons has created a (semi) position-less and three-point revolution. Stevens has embraced this new NBA, and beyond that, the Celtics have embraced him as their leader. Just look at how Jae Crowder and Isaiah Thomas revitalized their careers in Boston. That's not a coincidence; that's a buy in. Part of that has to do with his players loving to play with him, and part of it is his focus on fundamentals, team-oriented basketball, and defense. Perfect. Sign the man up.
So let's talk strategy.
Since we're dealing with an 82-game season, I want to establish some consistency so that there's no guesswork game-to-game. We'll definitely change up lineups once in a while, but in general, here's who I imagine being in the starting lineup.
Starters:
Mike Conley, Ray Allen, Paul George, Draymond Green, and Ben Wallace
NBA.com
DEFENSE!! This lineup is just stupid defensively. Ray Allen is by far the worst defender, and honestly, he's not that bad. I fiddled around with Draymond and Ben starting together, but that defensive flexibility was too enticing for me to pass up. Both can switch out on a pick-and-roll (Draymond doing so on an elite level), and both can protect the rim better than most. Ben isn't going to provide any offense (besides offensive boards), and Draymond won't be that dangerous scoring-wise, but he is a tremendous facilitator, and can't be left open from three.
All three of Mike Conley, Paul George, and Ray Allen can stretch the floor at an elite level. Paul George ranked in the 84th percentile in spot-up threes   and Conley ranked in the 90th percentile. This shooting data doesn't exist for 2001, but I'm sure Allen would be right around those numbers as well at an even higher volume. Ultimately, scoring for this unit will heavily come from these three.
I don't want to step on Stevens' toes with setting up minutes, so I'll just talk through my favorite lineup possibilities (this will seem very familiar if you've read Bill Simmons' book).
Most Unselfish Passing:
Mike Conley (maybe Deron), Manu Ginobili, Peja Stojakovic, Giannis Antetokounmpo, and Draymond Green.
Inside Hoops
This is just brilliant. The only player who might hold the ball for too long is Giannis, but after a few reps, he'd assimilate perfectly with this group. Peja is the only middling defender, but he, Giannis, and Draymond could seamlessly switch.
Spacing:
Deron Williams (or Conley), Ray Allen, Klay Thompson, Peja Stojakovic, and Draymond Green.
Are you seeing why I'm giddy about Draymond? Dude fits into pretty much any kind of lineup. This lineup definitely sacrifices defense with Deron, Ray, and Peja, but it's offensive potency is off the chart. Just give the ball to Deron, have Ray, Peja, and Klay run through screen, and have Draymond set some picks. The other team is forced to defend the three-point line 1-5. Poor defenders would be exposed quickly.
Defensive Nightmare (my favorite option):
Giannis, George, Marion, Draymond, and Wallace.
I'm speechless. Here, we run point-Giannis with George helping out a bit, and the rest is just free-form. Would the offense be ugly? Definitely, but the defense would be stifling. 1-5 could legitimately switch better than any other lineup in history. Even the 2017 Warriors might struggle to score against them.
Also, since 2000, the 2012 Thunder have averaged the most blocks per game at 8.2. This single lineup averages 8.2 blocks per game…
Fast-break
Williams, Klay, Marion, Giannis, Draymond
Any of the five can bring the ball up, Deron can facilitate, Giannis and Marion are relentless, and Klay can't be left alone. Good luck keeping up with this.
Keep a Lead With a Minute Left
Conley, Manu, Ray, Peja, and Yao.
Conley has the lowest free-throw percentage with 86%. Good luck (have I said this for every lineup so far? Weird).
These lineups are all fine and dandy, but if I'm preparing for anything, can I pull together a lineup that can stand against the best lineups in history? Let's take a look.
2017 Warriors (Curry, Klay, Iggy, Durant, and Draymond)
I mean, why not start off with the best lineup ever?
Conley, Klay, Giannis, Draymond, and Wallace.
Sports Illustrated
Jesus, that Warriors lineup still might be better! The only reason I put in Wallace instead of Marion is I need to expose the Warriors' only weakness: rebounding. Wallace would punish them on missed shots, and that might be the only way to expose them. All five of them can switch well enough with Conley's size being the only issue.
2001 Lakers (Fisher, Kobe, Fox, Horry, and Shaq)
Conley, Klay, George, Peja, and Wallace (or Yao)
The Hoop Doctors
This is a much easier lineup to handle because my main concerns are 1) make sure my guards can make Kobe's life hell and 2) slow down Shaq as much as possible. Wallace is one of the only players to effectively guard him, and if that doesn't work out, Yao is one of the other players to effectively guard him. The rest of the lineup's offensive firepower would be too much, and Shaq can't switch against four of the five players.
2013 Heat (Chalmers, Wade, Battier, LeBron, and Bosh)
Conley, Ginobili, George, Marion, and Wallace
onehotseason.com
The Heat were an excellent trapping defense, so it's important to have multiple ball-handlers on the court. Both Marion and George have had mild success guarding LeBron, and since both Wade and LeBron thrive off scoring in the point, having Wallace as the last line of defense is essential. Plus, Marion and Wallace will absolutely punish the Heat on the boards.
1986 Celtics (Johnson, Ainge, Bird, McHale, Parish)
Williams, Klay, George, Draymond, and Yao.
Pinterest
This is a really tough lineup to defend. They passed the ball effortlessly, destroyed teams in the paint, and were lead by apex Bird. I opted for Williams over Conley because Conley might just be too small to be that effective defensively. Williams wouldn't be posted up that easily. Yao would thrive in this situation because neither McHale nor Parish could stretch out to shoot a three. All of Klay, George, and Draymond could switch onto Bird and bother him.
1996 Bulls (Harper/Kerr, Jordan, Pippen, Rodman, and Longley)
Deron, Klay, George, Draymond, and Wallace.
neoGAF
I really like my chances against the GOAT's best team. Jackson's Triangle Offense usually works best with big guards, like Jordan and Harper, so having Williams over Conley is important because Williams won't get bullied around. George, Klay, and Draymond all can switch onto either Jordan and Pippen while making their lives a bit more difficult. Wallace is one of the best options for curbing Rodman's otherworldly rebounding. Also, what are the odds of Draymond, Rodman, and Wallace starting Malice in the Palace part two?
1987 Lakers (Magic, Scott, Green, Worthy, and Kareem)
Ginobili, George, Peja, Draymond, and Wallace
RantSports
This Lakers lineup doesn't resemble any modern lineup because 1) they made a total of 74 three-pointers in this year (Scott made 65 of those) and 2) they have a classic "dinosaur" center in Kareem who is way past his prime; however, their position-less flexibility between Green, Magic, and Worthy made them formidable on defense especially with Kareem lurking in the back.
To counter this, I opted with Manu for a bit more craftiness than Williams, and I picked Peja because he doesn't have to worry about chasing too many guards on the perimeter. As documented in "Airplane," Kareem didn't work that hard on defense later in his career, and I think Kareem couldn't contain Wallace on the boards while causing problems with their paint-heavy offense.
1983 Sixers (Cheeks, Toney, Dr. J, Iavoroni, and Moses)
Williams, Allen, Giannis, Draymond, and Yao
ivanjordanproductions.weebly.com
Why not Wallace over Yao? Because I want to take advantage of any deficiencies that Moses has on defense. Yao will force him to work on the side of the ball that he struggles with the most: defense. Wallace would help mitigate his offensive rebounding numbers, but I think it's more pertinent to have him deal with an offensive force in the post.
As for Dr. J, both Giannis and Draymond will match his length and strength. Both can dare the Doctor to shoot jumpshots while making any drives, his preferred method of scoring, strenuous.
From these teams, I wanted to show that the roster we have built is prepared to face any sort of roster. With all of the two-way forwards, we're best prepared to face modern offenses that are predicated on three-pointers and driving, but we're still prepared for anything….
But what about the players who were cut? Could we beat a team of players scorned? If we were to build a team using Team USA's strategy, we would just take the best players regardless of fit. Could a team of players scorned beat us? The twelve-man roster (which I'm constructing with significantly less thought) is as follows:
Guards: John Wall (2017), Kyle Lowry (2016), Jimmy Butler (2017), Brandon Roy (2009), Vince Carter (2001)
Forwards: Carmelo Anthony (2014), Andrei Kirilenko (2004), Blake Griffin (2014), Paul Millsap (2016), Gordon Hayward (2017)
Centers: Rudy Gobert (2017), Marcus Camby (2008)
To some folks, this might actually look like a better team than the one that we've built. I agree that this team has more offensive talent, but it would struggle with spacing issues and personality issues (especially alpha status between Butler, Roy, Carter, Wall, and Melo). Let's pretend that their coach Rick Adelman makes them all like each other. How does our team match up? Well this team's best lineup, in my opinion, is as follows:
Wall, Butler, Hayward, Anthony, and Kirilenko (or Gobert).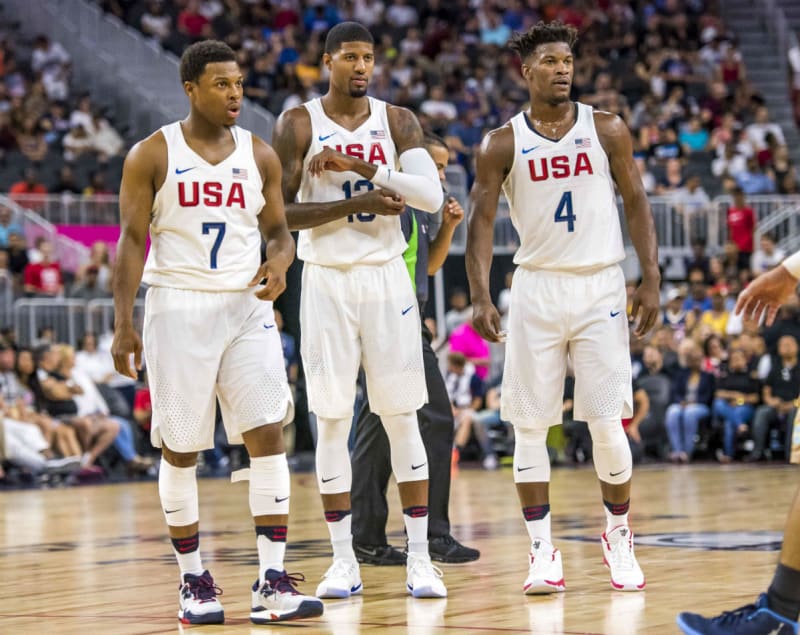 Sole Collector
This lineup can easily catch fire, and their individual offensive talent is off-the-charts. Plus, Butler, Hawyard, and Kirilenko (kinda Melo) can switch on defense and cause a bit of mayhem. All five players are comfortable bringing the ball up especially on the break, and they all must be defended for spot-up shots (though you can definitely give up that shot to Wall, Butler, and Kirilenko). So to counter this, I would toss out the following:
Conley, Ginobili, Allen, George, and Draymond
Fight small ball with small ball. In a single game situation, the other team might beat us once in a while, but I've constructed the team to last 82 games plus a playoffs. I'm rolling with our guys.
To finally cap off everything, I'm going to go through some of the players that I cut and briefly (I'll try) defend why I cut them. Here it goes.
Defending My Cuts
I've never been a huge believer in Melo. He's been to the Conference Finals once, shown a poor attitude (like when he refused to sub out of a game in Denver), doesn't defend particularly well, and he isn't a willing passer. He's a transcendent scorer, but I value that less than other attributes.
Full disclosure: Blake was on the team until I started writing this. He's a tremendous passer and a dominant scorer and rebounder. His perimeter defense is actually underrated, and his jumpshot is serviceable. Unfortunately, I think he's most effective with the ball in his hands, and I wanted to move away from players like that. With the smaller roster, Blake would probably be pushed into the center position, but I can't have a center that can't defend the rim (for reference, Blake ranks between Channing Frye and Enes Kanter here. Not great company).
The savior of Chicago this past year, Jimmy exploded as an incredible two-way player. Unfortunately his alpha complex pissed of Rose and Noah a few years ago, and his three-point shooting isn't enough to be a reliable spot-up man. He can score and facilitate, but like Griffin, he needs the ball. It's a shame because we could've used his defense.
Simply put, Wall's half-court scoring ability is atrocious. He's dominant on the fastbreak, and he passes as well as anyone, but he can't reliably score with the game on the line (side note: I'm not a big fan of judging a player off one game, but this article does a good job of summing up my concerns). He shot 34% on open and wide open threes last year. Plus, he's had some personality issues with people throughout the years.
You know that one restaurant that consistently has great food? I mean, that place where you walk in with some buddies, order an appetizer, and everyone is fighting over the last piece of it? Then, when the meal comes, conversations are curbed and replaced by your friends Instagramming the food, loud and constant "MMMMs," and the the repetition of the phrase, "We have to come back here!" It's been a great meal, so you all dive in on a dessert, one of those big ones that everyone shares with a fork. Silver slices delicate chocolate/apple/milky goodness, and you plop it in your mouth. Pause. You all look nervously at one another. Chewing slows down, and at least one person conspicuously lifts a napkin to their lips. The dessert is chalky/bitter/undercooked/eggy/ bland. It literally wipes the delicious taste of your entree from your mouth, and you're forced to stop at a local doughnut shop on the way home to avoid this agonizing experience. That's Kyle Lowry's regular season and post-season in a nutshell. 
Look, I love Brandon Roy. He's unnervingly clutch, led the second best offensive team in 2009, and garnered the following praise from Kobe Bryant:
Kobe Bryant was asked who the toughest player for him to guard in the Western Conference on the John Thompson Show the other day. This was Kobe's response:

"Roy 365 days, seven days a week. Roy has no weaknesses in his game."

– Ryne Nelson, "Kobe Bryant: Roy over Durant," 2010
The issue with Roy is that his game isn't suited for a star-studded, egalitarian basketball team. Like Jimmy Butler (and, appropriately, Kobe), Roy dominated with the ball in his hands with a series of step-backs, pull-ups, and drives. He facilitated at a solid level, but not at a game-changing level.
Here's an excerpt of misdeeds Carter committed against Toronto:
(a) his being accused in the Tacoma News Tribune of tipping off the Seattle SuperSonics about the Raptors' plays — a month before he stopped playing for Toronto; (b) distorting his face in derision and mocking the Air Canada Centre crowd for chanting "MVP" at Chris Bosh during a Raps-Nets game this season; and, worst of all, (c) telling broadcaster John Thompson he didn't push himself as hard as he could have when he worked and lived north of the border.

– Adam Proteau, "How Our Love for Vince Carter Turned to Hate," 2007
Not cool with any of that. Sorry Vince.
I fought with this one for a while because of his Finals experience and nearly unprecedented isolation scoring ability, but he's not a willing passer, possibly doesn't put winning first, is one of the worst defenders in the leauge, and, according to NBAWOWY data, hasn't led the Cavs to a positive On/Off differential without LeBron on the court with him. In short: I think Kyrie is extremely overrated.
Having Gobert back up Wallace would've been an immovable defensive choice, but his injury in the first round of the playoffs concerns me. Also, he doesn't have the intangible leadership abilities of Yao.
Kirilenko was a superstar, and I strongly believe that a combination of injuries and Jerry Sloan's coaching style stifled an illustrious career. He played 13 years too early, for his defensive switching ability might rival Draymond's. I ultimately went with Giannis over him because they were the same age (using AK47's 2004 season), and I wanted somebody who was more dominant on the break. I still kind of regret not bumping someone else for AK47…
For now, that's a good enough list of players and why they didn't make the team. If you're just dying to know why I cut 2007 Josh Smith or 2005 Elton Brand, please tweet at me, comment on this post, or hit me up on Facebook.
That's it! You have stuck with this series through thick and thin. I'm sure you've disagreed with some things along the way, but I feel very comfortable with the team that we have constructed. After 10,000 some words, this still feels incomplete, so if I think of anything else, I'll revisit the series at some point in the future.
As always, all stats from Basketball Reference, Stats.NBA, and NBAWOWY.